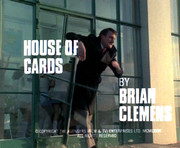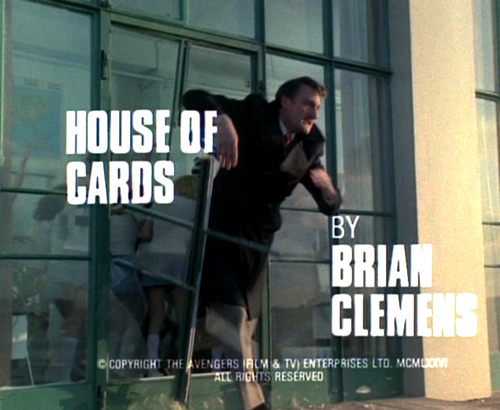 House of Cards
Avengers op DVD
| | |
| --- | --- |
| | |
| | |
| zone 2 | zone 1 |
| | |
| | |
| | |
| zone 2 | zone 2 |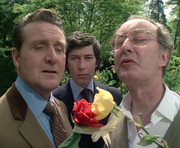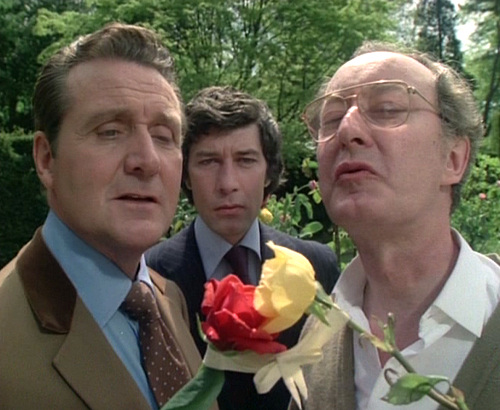 John Steed, Mike Gambit & Roland
Diabolisch?
Perov, schijndode geheimagent wil zijn eer herstellen met een kaartenspel.
Excentriek?
De Bisschop, rozenliefhebber die met kungfu zondaars ontwapent.
EXTERNE LINKS

Credits






Synopsis





G

eheimagent Perov is vast van plan om de beroemde professor Vasil tegen zijn wil terug naar het Oostblok te smokkelen. Maar Steed en zijn kompanen kunnen de professor ontzetten, door hem en Perov op de luchthaven te laten verstrikken midden een horde popfans op zoek naar hun idool. Perov zint op wraak, voor hem zijn alle wrekers ten dode opgeschreven. Gambit ondervindt dit in een karategevecht op leven en dood. Steed wordt verliefd op de verkeerde vrouw en Purdey vormt het sierlijke doelwit voor een scherpschutter...



Beste tekst





D

e conversatie tussen Olga en Steed op Perovs crematie:
Olga:

"And you're always making jokes."


Steed:

"Make jokes not war"


Olga:

"I thought it was make love not war."


Steed:

"What a delightful idea."





Beste scène





S

teed die het over zijn paarden heeft terwijl Jo denkt dat hij bezig is over Cathy, Emma en Tara.
Steed:

"Just some fillies I've toyed with."

(bij de foto van Cathy)

Beautiful. Went through some tricky situations together. Faithful. Reliable.

(bij de foto van Mrs. Peel)

Very spirited, very special. Fantastic creature. Had to take a whip to her, though, sometimes.

(bij de foto van Tara)

Excellent. Great action. But liked her oats too much. I sold her to an Arab prince. I think he eventually had to shoot her."





Media © Canal+
Videoclips
Beste tekst
Best scène
The Avengers?
Purdey's stiefvader is een bisschop, haar echte vader werd neergeschoten als spion.
Mike Gambit werd getraind door Spence.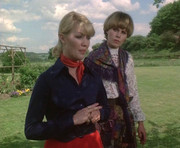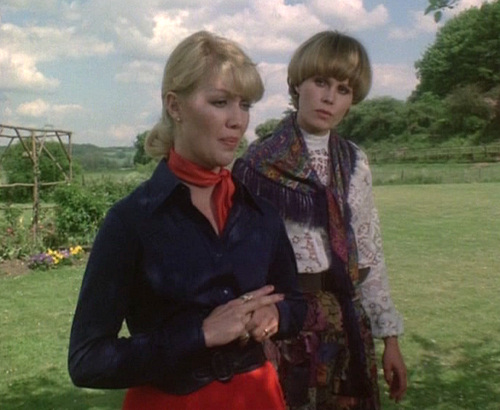 Suzy & Purdey