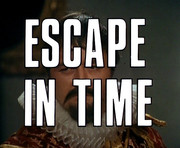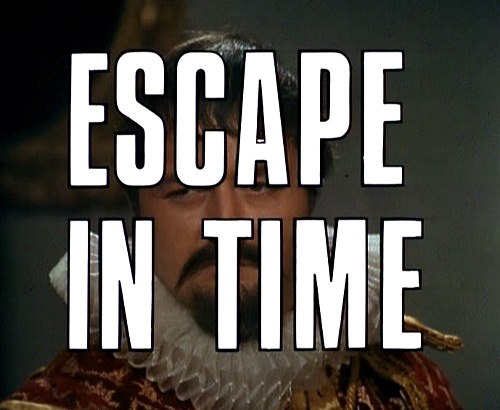 Escape in Time
Avengers op DVD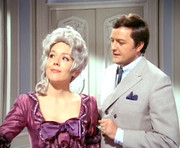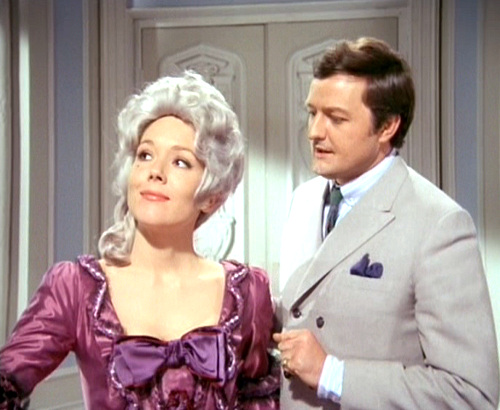 Mrs. Peel & Thyssen
Diabolisch?
Thyssen: schizofreen spraakgebreklijder.
Trivia
Peter Bowles (Thyssen) portretteert op schitterende wijze zijn voorvaderen. Terwijl de Thyssen uit de jaren 1960 hevig stottert doet hij dat niet in zijn vermommingen uit de voorbije eeuwen. Bowles is eveneens te zien in 'Second Sight' (Cathy Gale), 'Dial a Deadly Number' (Emma Peel z/w) en 'Get-A-Way!' (Tara King). Hij is ook bekend van de comedyseries 'To the Manor Born' en 'Only When I Laugh'.
Nicholas Smith (Parker) is vooral bekend als Mr. Rumbold in 'Are You Being Served?', hij heeft eveneens een rol in 'Super Secret Cypher Snatch' (Tara King).
Ironisch dat Rocky Taylor (Mitchell), de man die invalt als Steed's dubbel tijdens het volgen van de ontsnappingsroute, in de serie meermaals de stuntdubbel van Patrick Macnee was. Taylor deed stunts in talloze films waaronder 'The Mummy Returns', 'The World Is Not Enough', 'Tomorrow Never Dies', 'Highlander II: The Quickening', 'Indiana Jones and the Last Crusade' en vele andere.
Imogen Hassall (Anjali) vertolkt de rol van Maria in 'Overture' de eerste episode van 'The Persuaders!'.
Cyd Child, stuntdubbel voor Diana Rigg, werd tijdens de motorsequentie echt aangereden.
"Steed visits the barber

Emma has a close shave"

Credits






Synopsis





C

riminelen verdwijnen op mysterieuze wijze uit het land, blijkbaar volgen ze een geheime ontsnappingsroute. Vincent Tubby, een geheimagent, arriveert zwaargewond in Steed's flat met een stukje papier in de hand waarop te lezen staat: "Josino - Arriving from South America with a black crocodile - contact Mackidockie Court - Monday 12.30". Mrs. Peel en Steed besluiten Josino, een genadeloos dictator, te volgen...



Beste tekst





M

rs. Peel zit met haar voeten in een blok en wordt ondervraagd door Thyssen:
Thyssen:

"Now I ask again. Who are you?"


Mrs. Peel:

"I've already told you. My name is Peel, Mrs. Emma Peel."


Thyssen:

"These strange clothes you wear. The devil's work. Designed to daze and bewitch a man's senses. To inflame in to lust."


Mrs. Peel:

"You should see me 400 years from now."


Thyssen:

"You're a heretic! A bawd! A witch!"


Mrs. Peel:

"Hahahaha..... I can think of some names to call you too. Short, up to date, highly descriptive names."





Beste scène





O

m niet opgemerkt te worden in Mackidockie Court door Josino omhelzen Steed en Mrs. Peel elkaar meermaals.



Mrs. Peel we're needed...





E

en spoor van kledingstukken op de vloer leidt Mrs. Peel naar een invitatie voor het Groot Jagers bal, op het kaartje staat te lezen

"Mrs. Peel ... we're needed."





Tag





S

teed nodigt Mrs. Peel uit op een party. Buiten staat een oldtimertaxi te wachten, die niet wil starten. Steed duwt en Emma stuurt, uiteindelijk start de wagen. Steed stapt in de passagierscabine met zwart aangezicht van de uitlaat.



Media © Canal+
Videoclips
Beste tekst
Best scène
Mrs. Peel we're needed...
Tag
The Avengers?
Cover Mrs. Peel

: voortvluchtig crimineel om de ontsnappingsroute te volgen.
Cover Steed

: voortvluchtig crimineel om de ontsnappingsroute te volgen.
Steed bezit een paraplu met verdovingsgas.
Steed weegt 172 lbs wat ongeveer overeen komt met 78,2 kg en heeft een lengte van 6 foot 2 wat ongeveer 1 meter 88 is.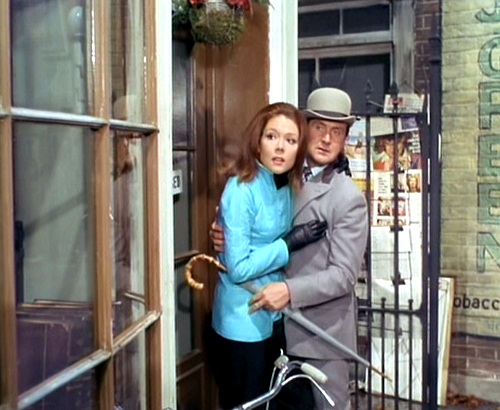 Mrs. Peel & John Steed