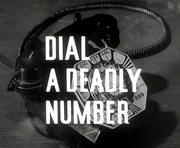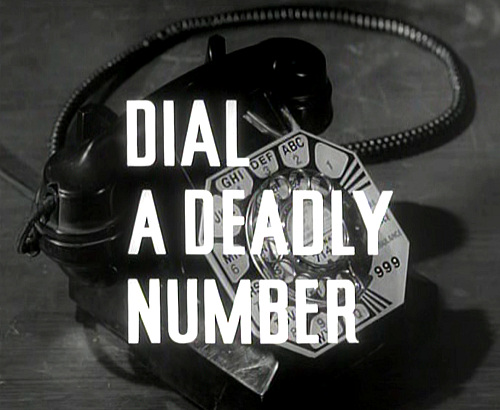 Dial a Deadly Number
Avengers op DVD
Excentriek?
Macombie, de kistenmaker, bewaart zijn boterhammen in een lijkkist, tussen de persoonlijke spullen van de overledenen.
Frederick Yuill, door vissen bezeten bookmaker.
Fitch, moorzuchtig klokkenmaniak.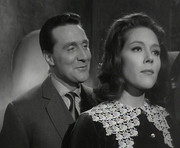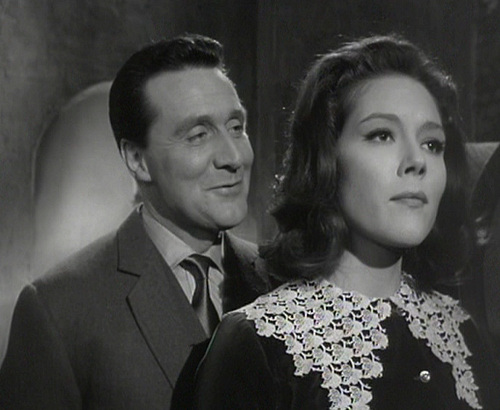 John Steed & Mrs. Peel
The Avengers?
Dit is één van de weinige afleveringen waarin Steed een revolver draagt. Hij gebruikt hem ook werkelijk wanneer hij belaagd wordt door twee motorrijders in de ondergrondse garage van het appartementsgebouw van de Boardmans.
Cover Steed

: Investeerder voor het leger.
Mrs. Peel volgt een herhalingscursus geneeskunde waardoor ze precies kan bepalen hoelang Yuill dood is.
"Steed plays Bulls and Bears

Emma has no option"


Credits






Synopsis





Z

akenman Todhunter sterft plots tijdens een vergadering aan een hartaanval. Hij is, in de financiële wereld, het zesde slachtoffer in korte tijd. Emma Peel en John Steed geloven niet dat dit toeval kan zijn en besluiten om zich op de aandelenmarkt te gooien. Het spoor leidt naar bankiers en aandeelhouders met een bieper en een duister man met een passie voor klokken, Fich genaamd...



Beste tekst





W

anneer Steed Mrs. Peel bevrijdt uit de kast bij Fitch:
Steed:

"Barbados London, cupboard class."


Mrs. Peel:

"Not my choice."





Beste scène





H

et duel bij het wijnproeven tussen Steed en Henry Boardman, er hangt meer spanning in de lucht dan bij eender welk duel met pistolen.



Tag





M

rs. Peel en Steed rijdend door Londen in een taxi. Tijdens de rit proeven ze wijn waarbij Mrs. Peel perfect weet om welke wijn het gaat:
Mrs. Peel:

"A claret with unusual body."


Steed:

"What?"


Mrs. Peel:

"The Bordeaux district, the little village of Saint-Périon. So it would be from the Devier vineyard. A Mérion Saint-Clair, 1930 ... would not be the year, 1931!

"


Steed:

"Fantastic, Mrs. Peel. Nose or palate?"


Mrs. Peel:

"Eyes, I read the label."


Steed:

"A votre santé!"


Mrs. Peel:

"A la vôtre!"





Media © Canal+
Videoclips
Beste tekst
Best scène
Tag
Trivia
De rol van John Harvey, het diabolisch meesterbrein, wordt vertolkt door Peter Bowles. Hij is eveneens te zien in 'Second Sight' (Cathy Gale), 'Escape in Time' (Emma Peel kleur) en 'Get-A-Way!' (Tara King). Bowles is vooral bekend van vertolkingen in series zoals 'To the Manor Born', 'Perfect Scoundrels', 'Only When I Laugh' en 'I, Claudius'.
Norman Chappell is een vaste gast in 'De Wrekers', hij speelt niet minder dan in 6 afleveringen een rol. Naast deze episode is hij ook te zien in 'Dance with Death' (Dr. David Keel), 'Dead of Winter' (Dr. David Keel), 'The Gilded Cage' (Cathy Gale), 'Murdersville' (Emma Peel, kleur) en 'Fog' (Tara King).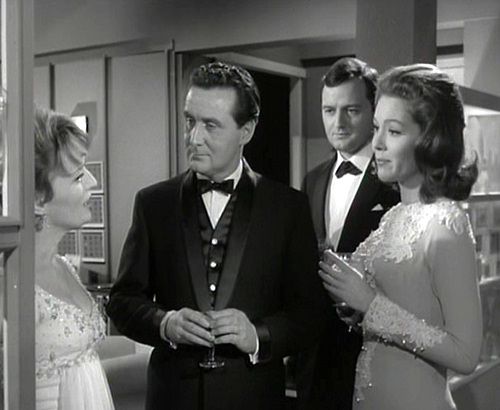 Mrs. Peel & John Steed
Diabolisch?
John Harvey en Ben Jago maken samen met Mrs. Boardman gebruik van de dodelijke diensten van Fitch om zich op die manier via de beurs te verrijken.