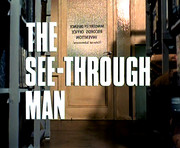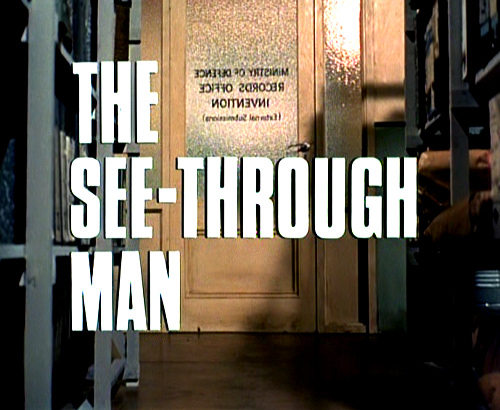 The See-Through Man
Avengers op DVD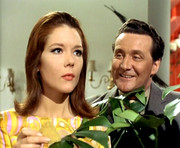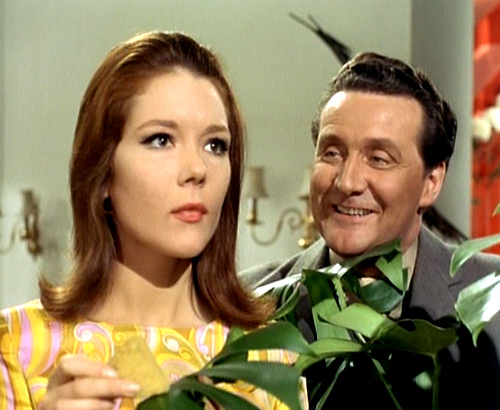 Mrs. Peel & John Steed
The Avengers?
Cover Steed

: afgevaardigde van MOD.
Mrs. Peel wendt haar chemische kennis aan om de theorie van Quilby te onderzoeken.
Excentriek?
Brodny: goedgelovig, neurotisch ambassadeur en Beatlesfan.
Quilby: verstrooide professor en fantasierijk uitvinder.
"Steed makes a bomb

Emma is put to sleep"

Credits






Synopsis





W

ilton, een bediende in de archieven van het ministerie kijkt verbaasd op als hij deuren en kasten vanzelf ziet opengaan. Even later wordt hij neergeslagen door een slag uit het niets. Mrs. Peel en Steed onderzoeken de zaak en ontdekken dat een geheim document over een uitvinding van een zekere professor Quilby in het archief ontbreekt. Wanneer Steed Quilby opzoekt beweert deze laatste een formule gevonden te hebben om dingen onzichtbaar te maken...



Beste tekst





M

rs. Peel en Steed bespreken hun bevindingen over Lord Daviot en professor Quilby:
Steed:

"Lord Daviot is dead?"


Mrs. Peel:

"He was pushing the lilies. I found him in the ornamental pond."


Steed:

"Murdered?"


Mrs. Peel:

"Good guess."


Steed:

"Well, it could have been natural causes."


Mrs. Peel:

"Are they ever?"


Steed:

"Daviot was killed because he knew about Quilby's invisible formula."


Mrs. Peel:

"Invisible?"


Steed:

"That's the substance of it; you take a spoonful at bedtime, when you wake up all your problems have gone. And so have you."





Beste scène





D

e zeer verstrooide professor Quilby die zelfs met moeite zijn eigen naam kan onthouden.



Mrs. Peel we're needed...





M

rs. Peel schuift een preparaat onder de microscoop. Wanneer ze door de lens kijkt leest ze

"Mrs. Peel ... we're needed."





Tag





M

rs. Peel spoort Steed aan om door de microscoop te kijken, hij leest

"I'm hungry"

. Eens buiten stappen ze in Steed's witte Rolls Royce, maar Steed krijgt de motor niet aan de praat. Mrs. Peel en Steed verlaten het toneel door de auto zelf voort te duwen.



Media © Canal+
Videoclips
Beste tekst
Best scène
Mrs. Peel we're needed...
Tag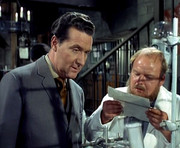 John Steed & Quilby