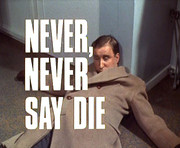 Never, Never Say Die
Avengers op DVD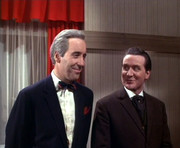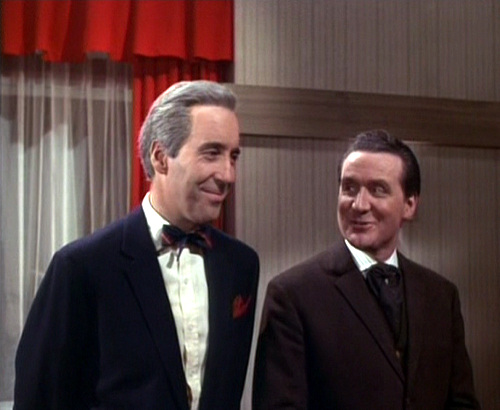 Professor Stone & John Steed
The Avengers?
Cover Steed

: veiligheidsagent die een bezoek van vips komt voorbereiden in 'MOT-NRU'.
"Steed meets a dead man

Emma fights the corpse"


Credits






Synopsis





E

en man wordt door de auto van Whittle aangereden. Wanneer hij aankomt in het ziekenhuis blijkt het slachtoffer overleden te zijn. Even later staat hij op uit het mortuarium en verdwijnt, de van dienst zijnde zuster hysterisch achterlatend. Whittle die meegekomen was naar het ziekenhuis vervolgt zijn weg en op bijna dezelfde plaats rijdt hij de man een tweede maal omver. Steed en Mrs. Peel worden er bijgehaald, ze zijn er zeker van dat de man deze keer echt dood is. Een ambulance komt het slachtoffer weghalen. Een paar kruispunten verder, wanneer de ambulance moet stoppen, slaan de achterdeuren open en springt de dode man uit het voertuig...



Beste tekst





S

teed en Mrs. Peel kijken in de slotscène naar een politiek debat op TV:
Mrs. Peel:

"You know, we just diverted a disaster."


Steed:

"Huh?"


Mrs. Peel:

"Can you imagine plastic politicians?"


Steed:

"Who would ever know the difference?"





Beste scène





E

en jonge man wordt met een banaan in de mond binnengebracht in de kliniek: Dr. James:

"He has been attacked."

, Steed:

"By a banana?"

.



Mrs. Peel we're needed





I

n haar flat kijkt Mrs. Peel naar een oude Wrekers aflevering ('The Cybernauts'). Plots verdwijnt het beeld en even later verschijnt Steed op het scherm met de boodschap:

"Mrs. Peel ... we're needed!"





Tag





M

rs. Peel en Steed raken het niet eens over wat te bekijken op TV, de afstandsbediening (in 1967!) gaat van hand tot hand. Uiteindelijk raken ze het eens om, bij een glaasje champagne, een politieke uitzending te volgen.



Media © Canal+
Videoclips
Beste tekst
Best scène
Mrs. Peel we're needed...
Tag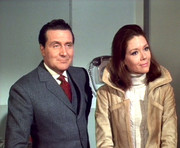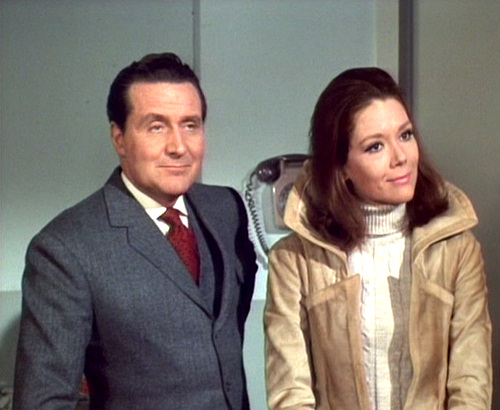 John Steed & Mrs. Peel
Excentriek?
George Eccles, online schaakfanaat avant la lettre.
Diabolisch?
Professor Stone en Dr. Penrose willen het land overnemen met duplicaten.