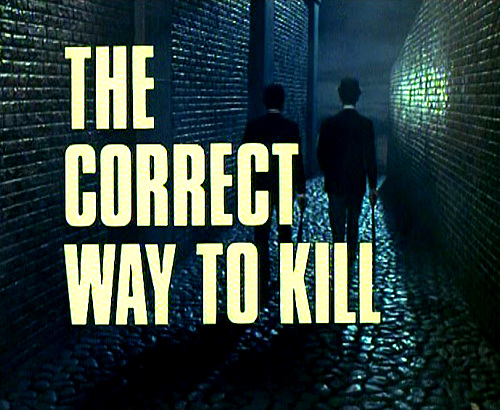 The Correct Way to Kill
Avengers op DVD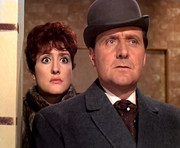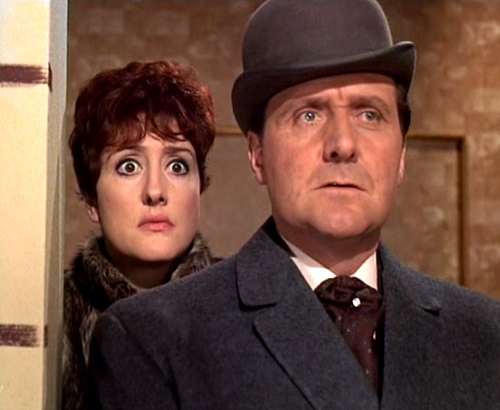 Olga & John Steed
Diabolisch?
Nutski wil de wereldmacht veroveren:

"until there's one world power, the state of Nutskiville"

.
Excentriek?
Winters test zijn paraplu's onder een douche:

"force nine downfall"

.
Ponsonby, Percy, Algy en de andere leden van SNOB zijn over de top Britse karikaturen.
Russisch agente Olga heeft moeite om haar eigen naam uit te spreken:

"Olga Savonovich Negriski Valovski"

.
"Steed changes partners
Emma joins the enemy"


Credits






Synopsis





W

anneer twee vijandelijke agenten kort na elkaar om het leven komen, worden Steed en Mrs. Peel als hoofdverdachten beschouwd. Steed kan Nutski, het hoofd van de vijandelijke dienst, er echter van overtuigen dat hij en zijn dienst niets te maken hebben met de dood van de twee agenten. Nutski en Steed besluiten de krachten te bundelen om te achterhalen wie verantwoordelijk is voor de aanslagen. Om elkaar te controleren worden agenten uitgewisseld. Steed wordt vergezeld van Olga, een assistente van Nutski, en Mrs. Peel trekt op pad met Ivan...



Beste tekst



Nadat Nutski uitgeschakeld werd:
Olga:

"Well thrown Comrade."


Ms. Peel:

"Thank you."


Olga:

"You must have some Slavic blood!"


Mrs. Peel:

"No, British through and through."


Steed:

"But you won't hold that against her, will you? I think this calls for a celebration drink."


Olga:

"Hard liquor softens the brain tissues."


Steed:

"Vodka from the Glorious Motherland!"


Mrs. Peel:

"Lead on, Comrade."





Beste scène



De beginscène met Boris Grotski:

"What's the matter with him? Is he dumb or something?" "No, he's British. Naturally he couldn't dream of discussing business with you until he's formally introduced."





Mrs. Peel we're needed



Mrs. Peel koopt de avondkrant aan een krantenkiosk. Tot haar verbazing staat op de voorpagina in het groot geschreven:

"Mrs. Peel ... we're needed!"





Tag



Steed heeft als geschenk een Russische muts gekregen van Olga:

"It keeps the brain at an even temperature. And an even brain is a cool brain."





Media © Canal+
Videoclips
Beste tekst
Best scène
Mrs. Peel we're needed...
Tag
The Avengers?
Mrs. Peel spreekt een woordje Russisch:

"Do svedanya, tovarishch!"
Steed's paraplu bevat een floret.
De foto's van Steed en Mrs. Peel in Nutski's brandkast bevatten op de achterkant de volgende tekst:
Steed:

"Dangerous handle with care."


Mrs. Peel:

"Very dangerous do not handle at all."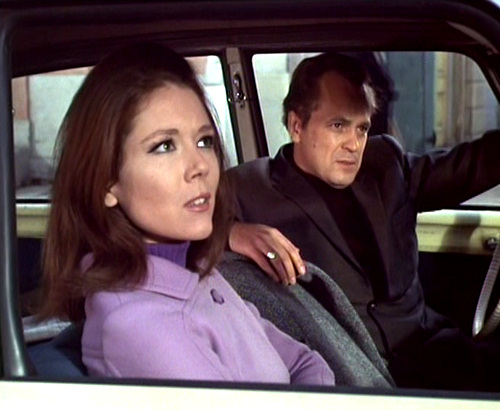 Mrs. Peel & Ivan