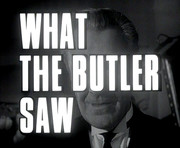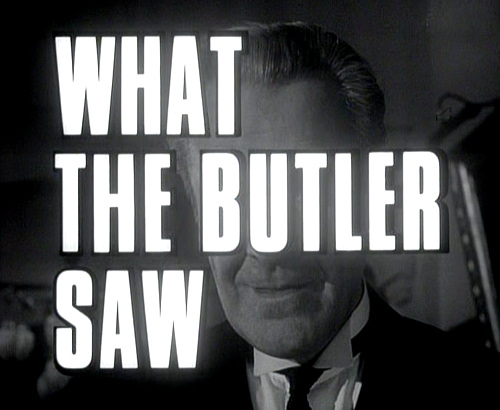 What the Butler Saw
Avengers op DVD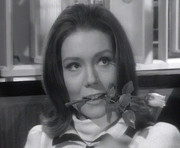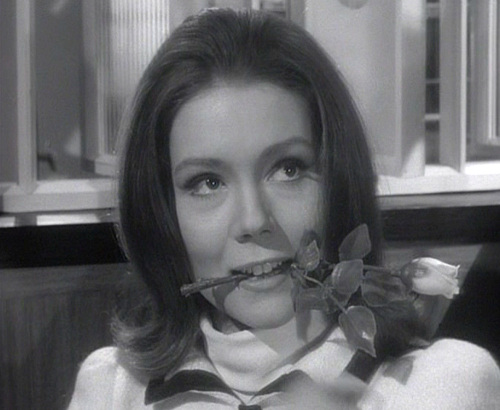 Mrs. Peel
Diabolisch?
Sgt. Moran, misnoegd door zijn overplaatsing als barman, verkoopt staatsgeheimen aan de hoogste bieder.
The Avengers?
Cover Steed

: bezoekt in vol ornaat de drie verdachten bij de land-, zee- en luchtmacht.
Cover Steed

: schrijft zich bij de Gentlemen's Gentlemen Association.
Cover Mrs. Peel

: verleidster van Group Captain Miles.
Mrs. Peel heeft telefoon in haar Lotus in 1966!
"Steed becomes a Gentleman's Gentleman
Emma faces a fate worse than death"


Credits






Synopsis





G

eheime defensieplannen lekken uit naar het Oostblok. Steed bezoekt zijn kapper, een dubbelagent, die hem vertelt dat of Admiral Willows of Brigadier Ponsonby-Goddard of Group Capt. Miles de geheimen doorverkoopt. Bij deze drie hoge officieren blijkt dat telkens de butler een cruciale rol speelt, Steed schrijft zich dan ook in bij een speciale school die in opleidingen voorziet voor butlers...



Beste tekst





W

anneer Mrs. Peel vertrekt naar haar afspraak met Group Capt. Miles zegt Steed:


"Don't do anything I would do."





Beste scène





S

teed die in verschillende vermommingen de drie verdachten opzoekt. Hierbij wordt het "Avengers" thema telkens in een andere militaire versie gespeeld (zeemacht, landmacht en luchtmacht).



Tag





M

rs. Peel en Steed stijgen op in een helikopter.



Media © Canal+
Videoclips
Beste tekst
Best scène
Tag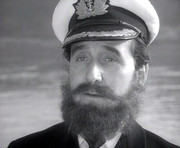 John Steed
Excentriek?
Major General Goddard, speelt graag soldaatje in de living.
De drie legerleiders die hun besprekingen voeren in een soort plastic zak om afluisteren te voorkomen.