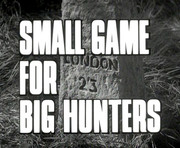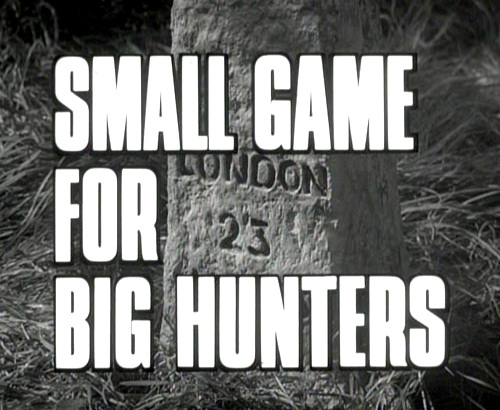 Small Game for Big Hunters
Avengers op DVD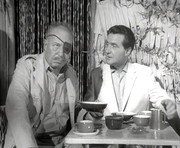 Kol. Rawlings & John Steed
Diabolisch?
Prof. Swain dekt zijn diabolische plannen met hocus pocus af.
The Avengers?
Steed's paraplu bevat een degen.
Excentriek?
Simon Trent, een echte 'big game hunter'. Schiet 's morgens graag op alles wat beweegt.
Kol. Rawlings blijft midden in Engeland in de waan dat hij nog steeds in Kalya woont.
"Steed joins the natives

Emma gets the evil eye"


Credits






Synopsis





S

teed en Mrs. Peel worden naar een landhuis nabij Londen geroepen waar een zekere Kendrick lijdt aan een vorm van slaapziekte. Hij werd gevonden in tropische uitrusting met een pijltje in zijn rug door dokter Gibson. Volgens professor Swain, een expert in primitieve stammen, is Kendrick vervloekt door Shirenzai, een cultus uit Kalya. Shirenzai in het Kalyaans betekent de "vloek van de slaap"...



Beste tekst





T

rent gaat achter Steed en Mrs. Peel aan:
Rawlings:

"Ah, a spot of hunting, hey! Bring us back a big one."


Trent:

"I'll bring you back a couple Colonel!"


Rawlings:

"Well, get them young if you can, the last ones were as though as old boots. I like something a bit tender, something I can get my teeth into."





Beste scène





S

teed verschijnt met een tarzankreet wanneer Mrs. Peel bedreigd wordt door Prof. Swain.
Steed:

"Me Steed!"


Mrs. Peel:

"Me Emma!"





Tag





M

rs. Peel en Steed peddelen de rivier af in een kano.






Media © Canal+
Videoclips
Beste tekst
Best scène
Tag
Trivia
Een van de controversiële productieregels van De Wrekers was het niet casten van kleurlingen. In deze aflevering wordt deze regel doorbroken door de acteur Paul Danquah te casten als Razafi.
Bill Fraser (Kol. Rawlings) kreeg de 'Laurence Olivier Theatre Award' in 1987 voor 'Best Comedy Performance' in 'When We Are Married'.
James Villiers (Simon Trent) vertolkt Bill Tanner in de James Bond film 'For Your Eyes Only' Hij is eveneens te zien in 'Married Alive', een tv-serie met Diana Rigg.
Peter Burton (Fleming) was de eerste acteur die de rol van Q (Major Boothroyd) vertolkte in de James Bond film 'Dr. No'. In 1963 tijdens de verfilming van 'From Russia with Love' was hij onbeschikbaar en werd hij vervangen door Desmond Llewelyn.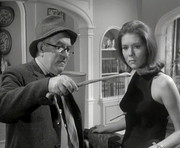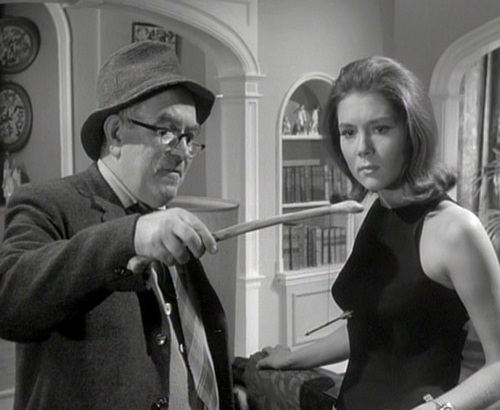 John Steed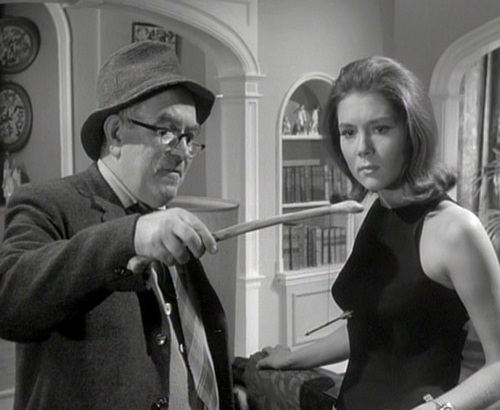 Prof. Swain & Mrs. Peel