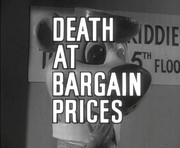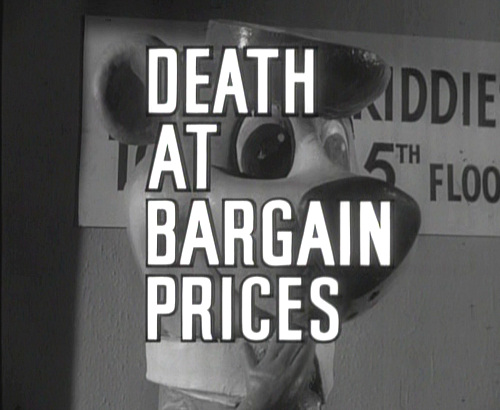 Death at Bargain Prices
Avengers op DVD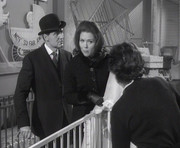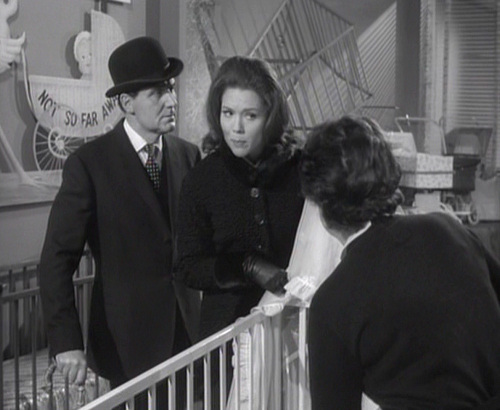 John Steed & Mrs. Peel
Excentriek?
Wentworth houdt geheime stafmeetings in tropische legeruitrusting op de kampeerafdeling van het warenhuis.
The Avengers?
Cover Mrs. Peel

: verkoopster bij Pinters, inspecteur bij het ministerie van arbeid.
Cover Steed

: efficiëntie expert, aandeelhouder van Pinters.
Diabolisch?
Horatio Kane: bouwt Pinters om tot een atoombom om het land over te nemen, en dat alles om te bewijzen dat hij niet "out of date" is of niet tot "the department of discontinued lines" behoort,

"A man can posses a Michelangelo, can't he Steed, and still appreciate a Picasso."
"Steed fights in ladies underwear

Emma tries feinting"

Credits






Synopsis





E

en agent wordt dood teruggevonden met een kasticket van Pinters warenhuis op hem. Mrs. Peel besluit een job aan te nemen in het warenhuis. Ze maakt kennis met Jarvis, de huisdetective, die haar op de hoogte brengt van ongewone zaken die plaats vinden in het warenhuis. Steed gaat op onderzoek als efficiëntie expert en komt zo in contact met Horatio Kane...



Beste tekst



Steed vindt Mrs. Peel terug in de lingerieafdeling:
Steed:

"I asked the chief predator where to find you and he said, 'Our Mrs. Peel is in ladies' underwear.' I rattled up the stairs three at a time."





Beste scène



De verkoopster in de babyafdeling aanziet Mrs. Peel en Steed als fiere ouders. Mrs. Peel: "I think baby's too big."



Tag



Steed en Mrs. Peel rijden weg op 'geleende' minifietsen uit Pinters warenhuis.



screengrabs © Canal+
Videoclips
The Best of the Original Avengers
by Patrick Macnee
Beste tekst
Beste scène
Tag
Trivia
In de speelgoedafdeling van Pinters zijn heel wat Dalek speeltjes te zien. De Daleks zijn robots uit de sciencefictionserie 'Dr. Who', een populaire jeugdserie uit de jaren 1960. Op dezelfde afdeling praten Steed en Mrs. Peel met elkaar door gebruik te maken van poppetjes uit een andere jeugdserie: Fireball XL5 van Gerry Anderson.
In de winkel maakt Mrs. Peel de opmerking "Whoever buys the china for the store can't distinguish between Bates and Royal Crichton." Dit is een verwijzing naar de kledingdesigner John Bates en de regisseur Charles Crichton.
Andre Morell (Horatio Kane) vertolkt Lord Teale in 'Death of a Batman' (Cathy Gale). Hij heeft eveneens een rol in Stanley Kubrick's 'Barry Lyndon' en het klassieke epos 'Ben-Hur'.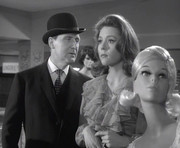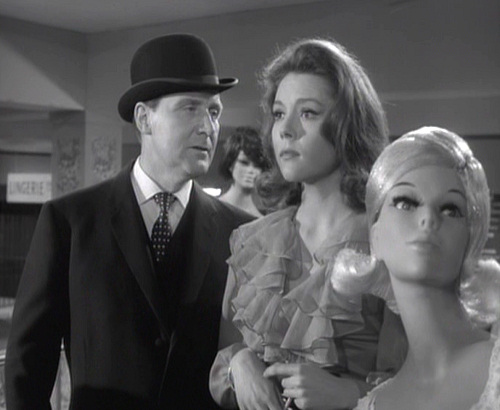 John Steed & Mrs. Peel