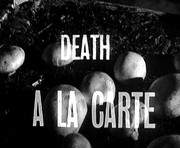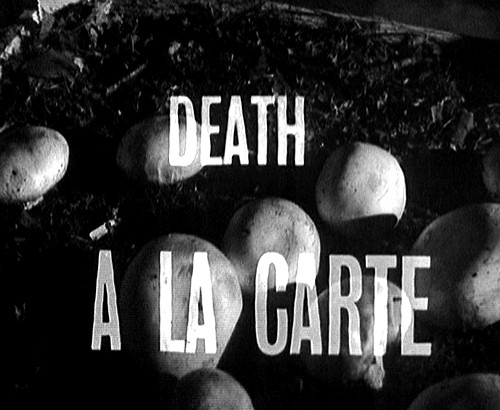 Death à la Carte
Transport?
Steed

: -
Cathy

: -
Andere

: -
Avengers op DVD
| | |
| --- | --- |
| | |
| | |
| zone 2 | zone 1 |
| | |
| | |
| | |
| zone 2 | zone 2 |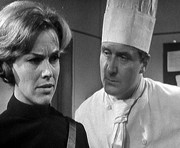 Cathy Gale & John Steed
The Avengers?
Cover Steed

: 'Chef de Viande' Sebastian Stone-Martin.
Cover Cathy

: 'Social Director' van Emir Abdulla Akaba.

Credits






Synopsis





E

mir Abdulla Akaba verblijft in Londen voor een medische controle. Niet enkel is zijn lichaam in beroerde staat hij heeft bovendien ook te kampen met personeel dat hem zo snel mogelijk onder de zoden wil krijgen. Steed en Cathy worden ingehuurd als hotelpersoneel om een oogje in het zeil te houden. Maar zelfs met Steed als chef-kok en Cathy als adviseur komt de Emir tragisch aan zijn einde. De vraag is wie of wat bracht hem om? Zijn persoonlijke arts, zijn butler, een overdosis medicijnen of giftige paddestoelen...



Beste tekst





C

athy en Steed sluiten de episode af met een diner klaargemaakt door Umberto:
Steed:

"Now what have we got here. I'm starving, Umberto, cannelloni, spaghetti, ravioli?"


Umberto:

"Do me a favour Mr. Steed. I've had that Italian lot, no this is real food there: Fish and Chips mate. We're frying tonight."





Beste scène





S

teed kan langs het raam ontsnappen uit het penthouse maar moet daarbij een gevaarlijke klim maken naar het dak van het gebouw.



Media © Canal+
Videoclips
Beste tekst
Beste scène
Trivia
Dit was de meest bekeken episode van seizoen 3 en staat op de vijfde plaats van meest bekeken episodes aller tijden (gegevens voor het VK).
Ken Parry (Arbuthnot) is ook te zien als de heerlijke Mr. Bumble in 'Honey for the Prince'.
De giftige paddestoelen zijn Amanita phalloides of groene knolamaniet ook bekend onder de naam 'Death Angel'. Het is één van de meest giftige zwammen ter wereld.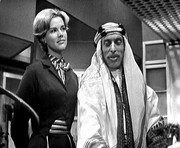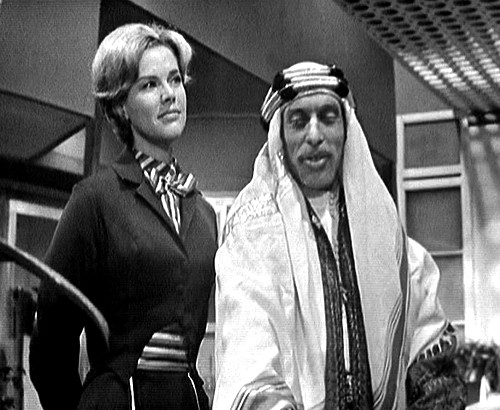 Cathy Gale & Emir Abdulla Akaba
Excentriek?
Emir Abdulla Akaba, autoritair despoot.
Umberto kunstmatig Italiaanse chef.