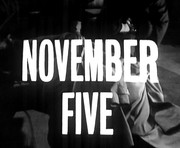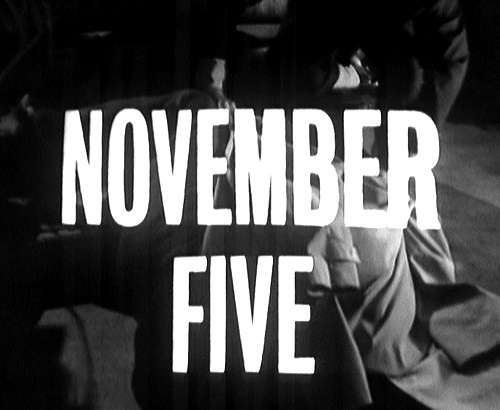 November Five
Transport?
Steed

: -
Cathy Gale

: -
Andere

: -
Avengers op DVD
| | |
| --- | --- |
| | |
| | |
| zone 2 | zone 1 |
| | |
| | |
| | |
| zone 2 | zone 2 |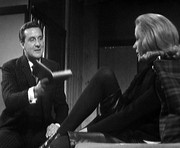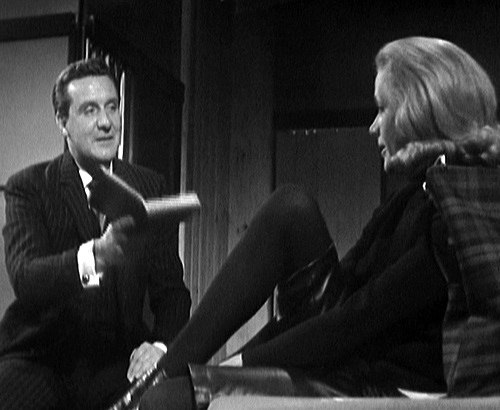 John Steed & Cathy Gale
The Avengers?
Mrs. Gale heeft videofoon in 1963!

Credits






Synopsis





T

ijdens het bekendmaken van de verkiezingsresultaten in South-East Anglia wordt de pas verkozen Dyter door een toeschouwer neergeschoten. Dyter beloofde tijdens zijn verkiezingscampagne een groot beveiligingsschandaal uit te brengen. Een raket van 5 megaton blijkt verdwenen te zijn. Steed vraagt Cathy om zich kandidaat te stellen als vervangster van de vermoorde Dyter. Cathy ontdekt dat Dyter springlevend is en de 5 megaton bom wil laten ontploffen in het centrum van Londen...



Beste tekst





C

athy houdt een verkiezingsposter van Dyter vast:
Cathy:

"This must be the shortest political career on record."


Steed:

"Michael Dyter held the seat for exactly 1,5 second."





Beste scène





B

ij elk bezoek aan 'The Houses of Parliament' ontmoet Steed dezelfde twee oude dametjes.



Media © Canal+
Videoclips
Beste tekst
Beste scène
Trivia
De titel van deze episode verwijst naar naar een stukje Engelse geschiedenis. In 1605 beraamde de rooms-katholieke Guy Fawkes een aanslag op koning James I omdat hij het oneens was met het door hem gevoerde protestantse beleid. Samen met een aantal medeplichtigen slaagde hij erin om zo'n 30 tonnen buskruit in de kelder van de 'Houses of Parliament' te plaatsen. Voordat het parlement de deuren opende die 5de november werd dit 'gunpowder' complot echter ontdekt. Guy Fawkes en zijn kompanen werden allen geëxecuteerd. Sindsdien wordt 5 november in Engeland gevierd door het ontsteken van grote vuren en het maken van opgezette figuren van Guy Fawkes.
David Langton (Major Swinburn) is vooral bekend als Richard Bellamy in 'Upstairs Downstairs'. Hij is eveneens te zien in de afleveringen 'The Mauritius Penny' (Cathy Gale) en 'The £50,000 Breakfast' (Emma Peel kleur).
Iris Russell (Fiona) vertolkte de rol van Father in 'Stay Tuned' (Tara King).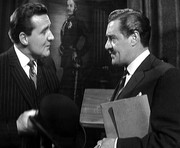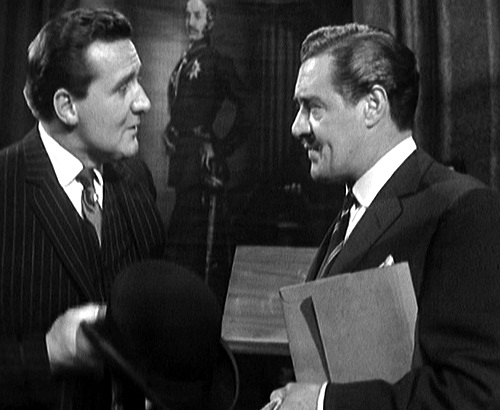 John Steed & Major Swinburn