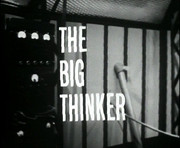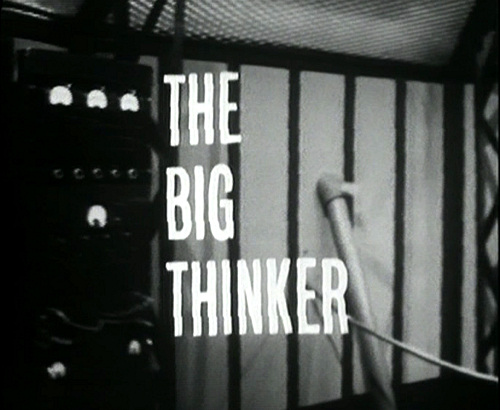 The Big Thinker
Transport?
Steed

: -
Cathy Gale

: -
Avengers op DVD
| | |
| --- | --- |
| | |
| | |
| zone 2 | zone 1 |
| | |
| | |
| | |
| zone 2 | zone 2 |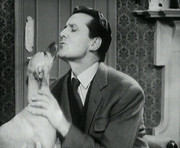 Sheba & John Steed
The Avengers?
Steed's hond luistert naar de naam Sheba.

Credits






Synopsis





D

e test van Plato, een supercomputer, wordt gesaboteerd. De computer loopt een tweede keer vast en één van de professoren wordt dood aangetroffen in de computerzaal. Cathy Gale infiltreert het onderzoekscentrum als taaldeskundige en maakt er kennis met Dr. Kearns, een jong briljant wiskundige. Steed ontdekt dat Plato een grote stap voorwaarts kan zijn in het besturen van raketten en vraagt aan Cathy om Dr. Kearns in het oog te houden. Cathy vergezelt Kearns naar een gokclub waar hij zwaar verliest bij een spelletje poker. Steed vermoedt dat men probeert om Kearns in schulden te brengen om op die manier de geheimen van Plato te ontfutselen…



Beste tekst





S

teed bakt een omelet maar laat ze aanbranden waarop Cathy de handen uit de mouwen steekt:
Cathy:

"Do you think you could manage to poor yourself a glas of wine?"





Beste scène





C

athy gaat met Steeds £500 Kearns schuld betalen bij Broster. Broster stelt voor te gokken voor het geld, Cathy wint maar Broster probeert toch het geld mee te graaien. Cathy voorkomt het met een karateslag.



Media © Canal+
Videoclips
Beste tekst
Beste scène
Trivia
De rol van het genie Dr. Kearns wordt vertolkt door Anthony Booth. Anthony Booth is de schoonvader van Tony Blair, de Britse eerste minister. Booth is vooral bekend als Mike in 'Till Death Us Do Part', de Britse serie waarop 'All in the Family' gebaseerd is.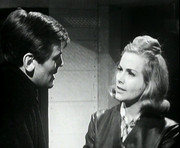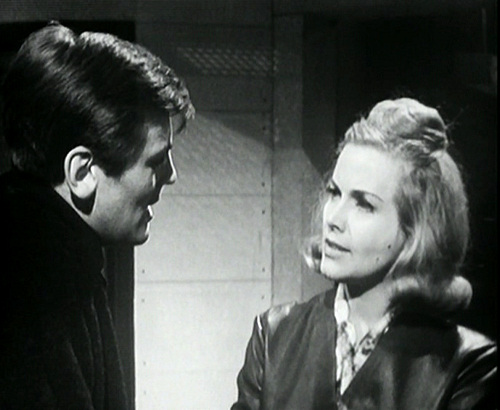 Dr. Kearns & Cathy Gale
Excentriek?
Dr. Kearns, karaktergestoord geniaal wetenschapper.